Conferment of Doctorate 'Honoris Causa' on Professor Oded Galor
The Athens University of Economics and Business organized on Thursday 6 July 2023 at 18:30, in the Amphitheater "Leonidas Zervas" of the National Research Foundation in Athens, the award ceremony of an Honorary Doctorate of the Department of Economics, of the School of Economics, to Professor,
ODED GALOR
The event began with addresses by the Rector of the Athens University of Economics and Business, Professor Dimitrios Bourantonis, and the Chairman of the Department of Economics, Professor Evangelos Vassilatos. This was followed by the presentation of the work of Professor Oded Galor by Evangelos Dioikitopoulos, Professor in the Department of Economics, and the ceremony for the conferment of the Doctorate 'Honoris Causa'.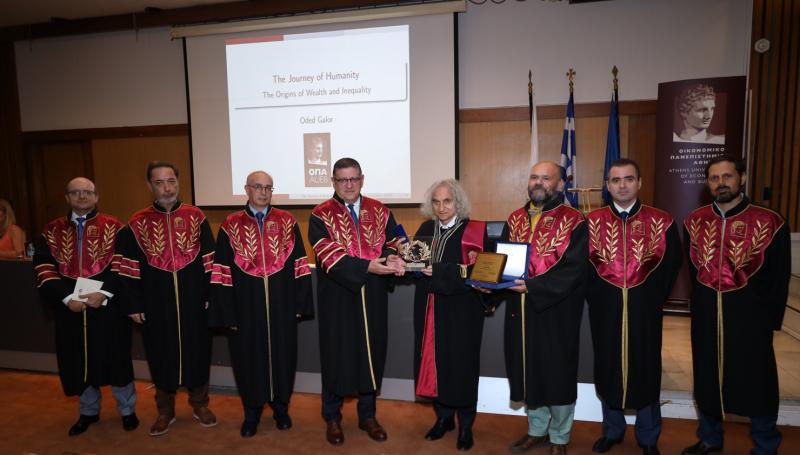 The award ceremony concluded with a lecture by Professor Galor on «The Journey of Humanity: The Origins of Wealth and Inequality»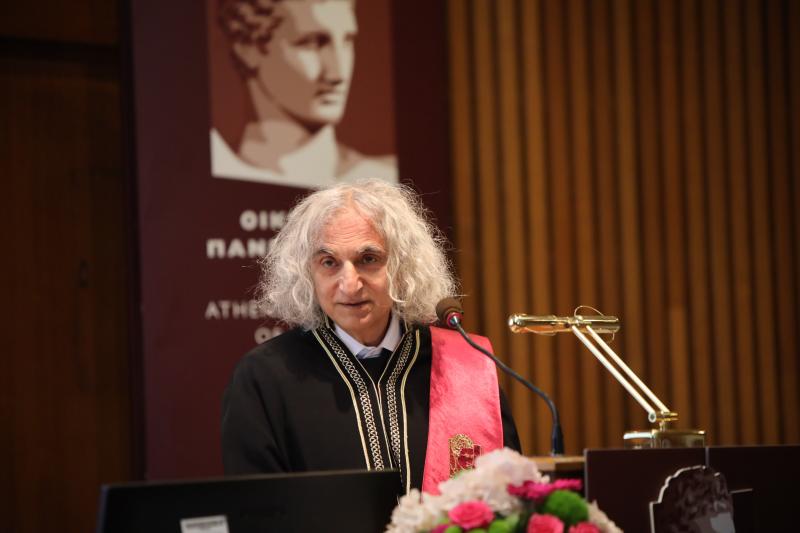 Oded Galor is Herbert H. Goldberger Professor of Economics at Brown University and the founding thinker behind Unified Growth Theory which seeks to uncover the fundamental causes of development, prosperity and inequality over the entire span of human history and the role of deep-rooted factors in the transition from stagnation to growth and in the emergence of the vast inequality across the globe. He has pioneered the exploration of the impact of human evolution, population diversity, and inequality on the process of development over most of human existence. Oded Galor's ground-breaking work has changed the way we understand humanity's journey from the dawn of existence to today, addressing issues such as why human progress appears so unequal around the world, how further growth is possible without ruining the planet, why humanity was stagnant for so long, and what that might mean for our future. His research has produced and still produces a significant stream of publications in the most prestigious and influential scientific journals in Economics, such as the American Economic Review, Econometrica and the Quarterly Journal of Economics, that enjoy an impressive number of citations.
Regularly mentioned during discussions about prospective Nobel Prize recipients, Galor has led the NBER National Bureau of Economic Research (NBER) research group on Income Distribution and Macroeconomics, he is a Research Fellow of the Center for Economic Policy and Research (CEPR) and Institute of Labor Economics (IZA), and a Research Associate of the NBER and the Center for Economic Studies, an independent institute within the Faculty of Economics (CESifo). He is also the Editor in Chief of the Journal of Economic Growth, and a member of the editorial board of several journals, including Economics and Human Biology, the Journal of Economic Inequality, the Journal of Population Economics, and Macroeconomic Dynamics.
Last but not least. Galor has shared the insights of his lifetime's work at some of the most prestigious lectures around the globe and has now distilled those discoveries into The Journey of Humanity, which is being published in twenty-eight languages worldwide.