Human Resource Management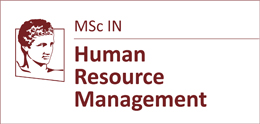 Site: https://www.aueb.gr/en/school_of_business/hrm
The Graduate Program in Human Resource Management (Master of Science in HRM) was founded in 2003 by the Department of Marketing & Communication and the Department of Management Science and Technology of Athens University of Economics and Business and is the first program on site, provided by Greek University. Director of the program is Professor Maria Vakola. It operates in two sections: Full Time for new graduates who do not work and part time for employees.
Purpose of the Program is to develop executives capable to confront the current challenges associated with people in businesses and organizations.
The courses of the program are divided into three main sections:
Background Courses necessary for understanding the business context in which HRM is carried (Operations Strategy. Financial Management. Labor Law. Labour Economics. Organizational Psychology, Organizational Behavior, etc.).
Lessons cover the basics of HRM (Human Resource Planning, Recruitment. Fees. Education. Evaluation and Performance Management. Employee Relations. HRM Information Systems).
Lessons come to strengthen the strategic-development role of HRM (Change Management. Negotiations. Internal Communications, Crisis Management. Corporate Social Responsibility).